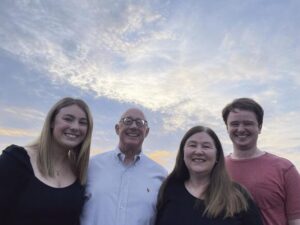 Pastor Joy Bruder held her first church service on Sunday morning, July 2, 2023 at Arlington UMC. Bruder, who grew up in a Christian home in the Twin Cities, has been a pastor since 2014, after graduating from Bethel Seminary in St. Paul.
Before being assigned to Church in the Maples, as well as Arlington United Methodist Church, Bruder would drive 100 miles one way to the city of Minnesota Lake where she held church services for two small churches.
Bruder comes from a long line of pastors. Her uncle, three cousins, and her great grandfather, who traveled from church to church on a horse and buggy, were all pastors. She also has a great, great grandfather who was a bishop during the Civil War. While Bruder always believed she'd be a chaplain or missionary, she didn't see herself as a pastor in a pulpit. But God just opens doors and you have to follow the lead, she says.
Those doors came in the form of her time spent working in hospitals as a hospice chaplain for nearly ten years. "I saw a lot of hospice patients fearful of death and felt called to go to seminary to help those people. That's why I went to seminary really, was to find answers for people," Bruder says.
In addition to the challenging yet fulfilling job of offering some peace to those facing death, Bruder also spent time serving the church and people overseas. Before getting married, she lived at the U.S. Center for World Mission in California which sent her to Wuhan, China on a mission to spread the story of Jesus. Because China is a communist country, Bruder had to go in under the guise of a professor, which saw her teaching English at the university in Wuhan. Despite making less than $30 a week as a teacher, she describes her time there as a great joy, noting her love of meeting people and preaching.
That same joy is what Bruder expects to experience in her new role in Arlington UMC. "My philosophy is really getting involved in the community. I love small towns because you run into people you know when you go downtown. You don't get that in big cities, you're not going to run into anyone. There's something lost in big communities," says Bruder, adding that Arlington UMC reminds her of the quaint, fictional town of Mayberry in the 1960s sitcom The Andy Griffith Show.
Bruder would like to share that everyone is welcome to worship with her, and invites those interested in attending to her church services held every Sunday at 9:30 a.m. at Arlington UMC, located at 303 West Alden Street, Arlington MN 55307.
Bruder currently lives in Edina with her husband of 28 years. She shares two two college-aged children with him, a son and a daughter. Bruder and her husband will be moving to Arlington in the coming months to be closer to Church in the Maples and Arlington United Methodist Church, and their respective communities.